Last week was National Safety Stand Down Week where contractors from all 50 states were encouraged to take a break and educate their employees about safety awareness. Since its inception, National Safety Stand Down events have reached over 5 million construction employees nationwide and provided them with vital information about fall hazards and other safety related topics.  These events are a chance for employers to talk directly to their employees about safety issues and reinforce safety procedures and protocols.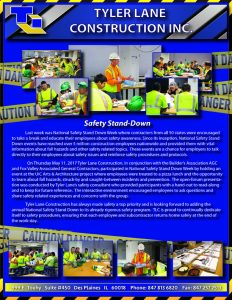 On Thursday May 11, 2017 Tyler Lane Construction, in conjunction with the Builder's Association AGC and Fox Valley Associated General Contractors, participated in National Safety Stand Down Week by holding an event at the UIC Arts & Architecture project where employees were treated to a pizza lunch and the opportunity to learn about fall hazards, struck-by and caught-between incidents and prevention.  The open-forum presentation was conducted by Tyler Lane's safety consultant who provided participants with a hand-out to read-along and to keep for future reference.  The interactive environment encouraged employees to ask questions and share safety related experiences and concerns with the group.
Tyler Lane Construction has always made safety a top priority and is looking forward to adding the annual National Safety Stand Down to its already rigorous safety program.  TLC is proud to continually dedicate itself to safety procedures, ensuring that each employee and subcontractor returns home safely at the end of the work-day.