On Tuesday May 23, 2017,  Tyler Lane Construction along with the entire Lane Tech project team took home not one, but two coveted awards at the Chicago Building Congress' annual Merit Awards dinner, receiving the Owner's Choice Award and the Rehab Construction Award in their respective categories for the restoration project at Lane Tech College Prep High School.  It was truly a magical night as the winners were being announced and Tyler Lane Construction was honored to be recognized by their peers and to have competed with some of the best construction projects and companies that Chicago has to offer.  On behalf of Tyler Lane and the entire project team, we'd like to offer congratulations to all of the nominees and winners!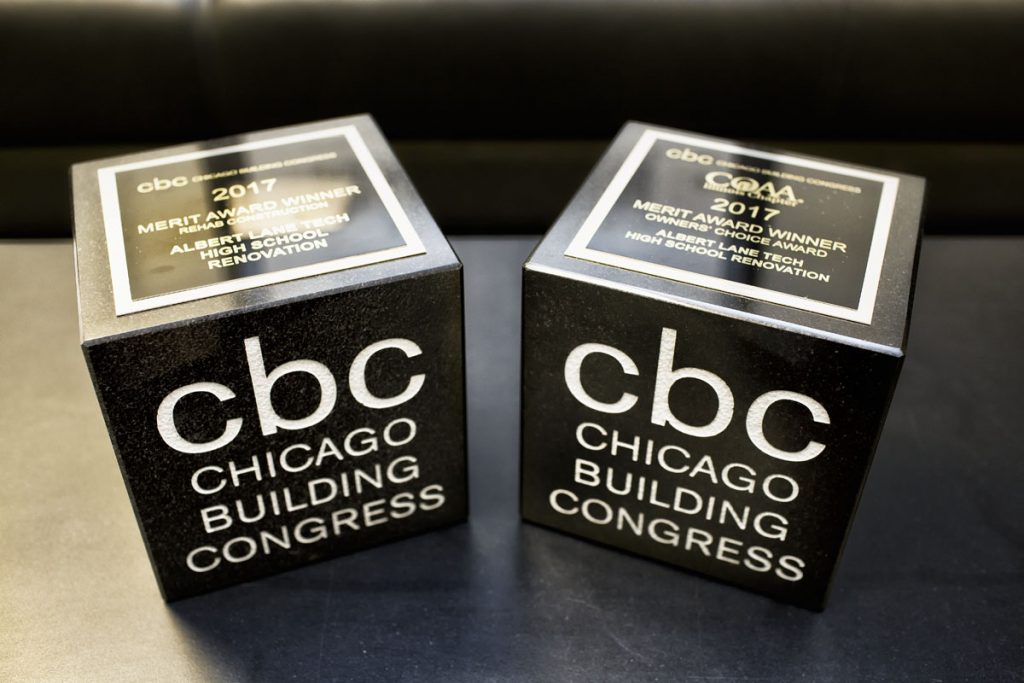 Lane Technical College Prep High School is the largest in the city and the 6th largest in the state of IL. The entire 607,000 SF building needed to be completed rehabilitated inside and out. Roofs & skylights were leaking, masonry walls were crumbling, and the windows and doors didn't operate properly. As a result, the building had been subjected to water penetration for years causing extensive water damage and wear on the interior finishes.
The school houses approximately 4,500 students faculty and staff during the school year and is home to countless extracurricular activities, academic clubs, sporting events and meetings. A project of this magnitude would be complicated on its own, but this project had to be performed with a fully occupied school and without any disruption to academic life for the student body.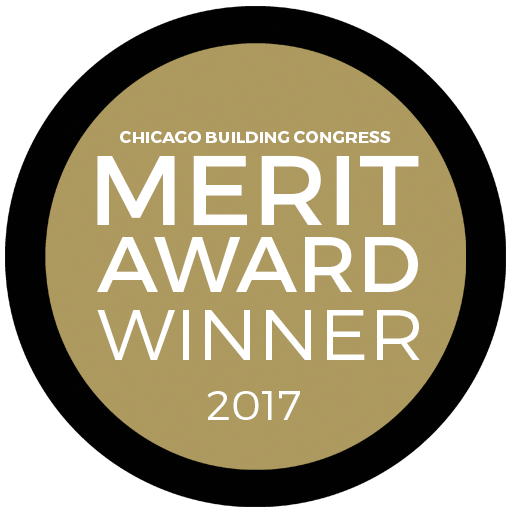 Over the course of an aggressive 17-month schedule 215,000 square feet of roofing was removed and replaced with a new, 75% reflective surface roofing system. Additionally, 6,000 lineal feet of masonry parapets were demoed and rebuilt, 15,000 pieces of terra cotta were removed, repaired & reinstalled. New cast stone pieces replaced destroyed terra cotta pieces and were painted to match the existing. Along with the roofing and masonry repairs 2,568 new windows were installed to completely seal the exterior envelope from future water penetration.
Finally, a Limited Use Elevator was installed allowing disabled students to access previously inaccessible areas of the building. 240 trades-people worked in three shifts performing the noisy and dusty work once classes and activities were completed each day and the non-disruptive work was performed while classes were in session. Full-time safety personnel were on-site during all construction operations to ensure that the students, teachers and public were kept out of harm's way. Because of the implementation of strict safety measures, in all 265,000 man hours were safely worked without a lost-time incident.